PREPARE FOR YOUR FIRST APPOINTMENT
We are the Battle Ground Dentist you have been looking for!
Your first visit is designed to introduce you to the team at Battle Ground Dental and determine the best treatment plan for you. Each treatment plan is custom tailored to your needs as a valued patient. We look forward to meeting you and if you have any questions at all, please don't hesitate to contact us.
Get ready for your first appointment
So, you've made the first step to dental health and selected a new dentist. The more you know about what to expect during your first visit with Battle Ground Dental, the less anxious you will feel. Our experienced and professional staff will help you feel at ease.
Feel free to reach out and ask us any questions you may have. You can also browse through our services for more information.
If you have not yet scheduled your first appointment, we are happy to take your call at (360) 687-4721or please REQUEST an appointment here.
WE'RE LOOKING FORWARD TO MEETING YOU!
SCHEDULE YOUR APPOINTMENT
Have you met our team yet? They're the heart of our office and they'll be waiting for you when you arrive. Feel free to call them now and ask them any questions you have before scheduling an appointment for you and your family.
We'll take care of everything! (360) 687-4721
If you'd prefer for us to reach out to you, just send us an Appointment Request and we'll contact you shortly.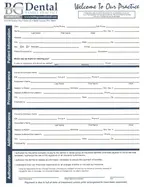 Our waiting room is comfortable but we know we can't compete with your home, so take a moment to fill out these forms before you come in for your appointment. It will reduce your wait time.
During your first visit, we'll need to obtain important information, like your medical history and background. Please print & fill out the following forms so we maximize your time. Click on form to download
GET DIRECTIONS
CONVENIENTLY LOCATED
Battle Ground Dental is conveniently located off of Scotton Way on the corner of SW 13th Avenue. We share a parking lot with A Children's Dentist.
Battle Ground Dental
1215 SW Scotton Way,
Suite 121
Battle Ground, WA 98604
PAYMENT OPTIONS
Don't have insurance? Make sure to look at our BATTLE GROUND DENTAL MEMBERSHIP PLAN! It's a fantastic new affordable option for your dental care needs!